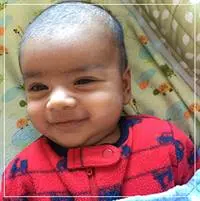 "But how can you drive up the wall?" asks Aarav, in reference to me saying "Ugh somedays you both drive me up the wall."
The days are calm, Aarav is in pre-school two days a week. The other days he'll visit his grandma's or play independently for most of the day. This provides a nice break for me to spend time with Arjun or just get errands around the house done. Arjun sleeps most of the day which is also nice. However as soon as the clock strikes 5pm, we welcome the witching hour!
Aarav is running around like a mad man, since he's over tired from his eventful day, Arjun is screaming and crying for no reason. This continues till about 7pm. That's when Aarav goes to bed, and we usually get Arjun in the bath and ready for bed too. I've heard other moms talk about this witching hour too. It must be from the stimulation of the day. I'm sure some of us experience it too, especially after a long day of work, wouldn't be nice to come home and just scream and let it out. The tough part is that usually it takes place at the time we are preparing and eating dinner. After 8pm when Arjun goes down is usually when I want to gulp down an entire bottle of wine and have some "me" time lol. Alas I cannot as I am nursing throughout the night. What makes all the chaos worth it, is the mornings when they both wake up with smiles on their faces. The first time Aarav smiled (not from gas, but a real smile) made my heart melt. Just this week we got our first from Arjun. Best feeling ever. The crying and gong show that occurs every night in the evening at our house, is greeted by those smiles in the morning, and that's what gets me through it.