It's a big year to celebrate all that makes us Canadian this year, and once again the fireworks will be held on the water near Canada Place starting at 10:30 PM. They recommend you view the fireworks from one of 6 locations
Fireworks Viewing Zone at Canada Place
Harbour Green Park
Coal Harbour
Stanley Park (9 o'clock gun)
Crab Park
West Vancouver Seawall (between Ambleside and Dundarave)
But let's face it, these locations are not ideal for large crowds of people, the tall buildings in Coal Harbour block the view, and all of the good viewing spots getting taken quickly. So we came up with a list of 5 locations that would be BETTER for the Canada Day fireworks.
English Bay
Sure, this may be the location of The Celebration of Light every year. but why couldn't it be for Canada Day too? The city has plans for how to function with massive crowds here, there is more open space, and you can view them from both side of False Creek.
Burrard Bridge
It's one of the most beautiful bridges in Canada (when it's not under construction), just imagine the crappy fireworks videos you could record shooting off the bridge – never to be watched again! But seriously, this bridge offers tons of seawall viewing points, not to mention beaches on both sides of the creek. Downside – it shuts down a major artery into the city. But let's be honest, traffic will be a nightmare wherever the fireworks are.
Kits Beach
So you say English Bay is reserved for the other fireworks? Then how about it's sister? Lots of beach and park space to enjoy, and you could watch them from the other side in English Bay as well.
BC Place
Stay with us here. Imagine the open roof, with the second best light show of the year shoot off directly above you! They could sell tickets for inside the dome, and onlookers could check it out for free along the seawall, or massive empty space in Olympic Village. Not to mention you'd probably get a pretty swanky view no matter where you are downtown.
Grouse Mountain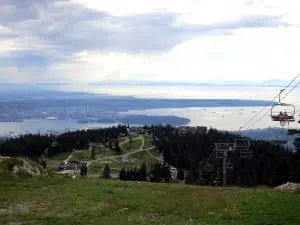 This one is really a pipe dream. After all, lighting up tons of explosives on top of a forest comes with its dangers. But IMAGINE, no matter where you are in Vancouver, being able to see the entire north shore mountains lit up. Say goodbye to crowds.