The Richmond Night Market has FOOD. Lots of glorious, amazing and sensationally tasting food! (see our top picks HERE).
But.. I was super surprised to learn you can find lots of unusual and interesting things to buy, obviously while you're munching some of the best food on offer.
Here's my 'top 5 things you never knew existed' at The Richmond Night Market:
5/ T-shirts with ANYTHING on them!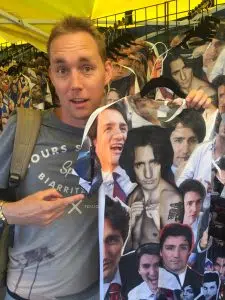 Seriously. Want a shirt with 20 photos of Justin Trudeau? DONE! Want a shirt with Pacman on the back and a shirtless Justin Trudeau on the front? DONE!
Want a shirt with photos of a Miley Cyrus superimposed on top of Justin Timberlake? YEP, they have that too. Every t-shirt I've never for seen for sale elsewhere is here.
And.. btw the Trudeau shirts must be very popular because there were so many different styles and versions!
4/ Zorb Balls in water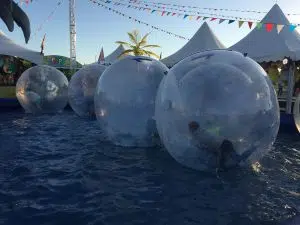 Look.. I didn't know I'd be obsessed by these giant inflatable balls in water until I saw everyone else having a go… that's my excuse.
Totally did not expect to find this at The Richmond Night Market!
Also – I noticed a fair number of adults trying this out, so I mean, I had to give it a go. I'm sure you will too! Just get in there! So much fun.
3/ Nail Stickers… so many nail stickers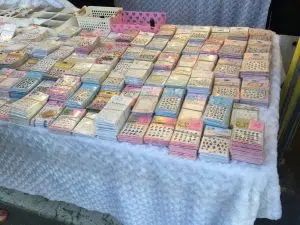 My girlfriend didn't know she loved nail stickers until she started looking at the huge variety available. I mean there are literally THOUSANDS of nail stickers for sale and in all types of colours and patterns.
I wish I could tell you I tried them out, but I was too busy in the giant inflatable balls (see above). However, the fact my girlfriend wasn't into the stickers and bought a stack of them speaks for itself. Oh, and yes honey they look beautiful!
2/ Socks.. All the socks!
I'll admit it – I'm not a sock guy at all. All my socks are plain black or plain white (see I'm boring and not interested).
However, when you find a sock that has Tony Soprano on one foot and The Godfather on the other foot, well YOU BUY IT. How could you not?!
I also bought some vintage Vancouver Grizzlies socks. Yes!!
I'll bet you a pair of socks you'll find something that'll make you go 'OMG.. that's awesome, I've gotta get it'!
1/ Live entertainment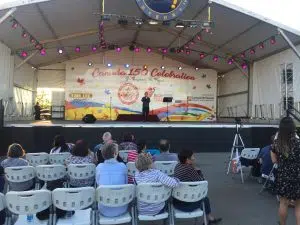 I had no idea there would be sensational live music.. I expected maybe some buskers at best.. maybe.
But the live entertainment here is a great break from munching on food or looking at stalls.
The night I went there was live karaoke which was so fun to watch (I'd never actually do it), but seeing people bash out Nickelback and Celine Dion was amazing. Even watching the not so good people was so good! C'mon you know what I mean.
There was also belly dancing that night which was an experience. In the coming weeks I saw they have a DJ contest and few bands performing as well. So, go for the food and shopping – stay for the live entertainment and a make a night out of it! Check out the full entertainment schedule for more info.
The Richmond Night Market is open all long weekend and all the way till October 9th, so you've got plenty of time to check it out!