Richmond night market is back for another year and has more AMAZING food options! You can basically take a trip around the world and try so many tasty dishes in the one stop.. literally within 100 metres!
Seth Rogan knows what's up:
To check out all the food options available at the Richmond Night Market –  go visit for yourself on Friday, Saturday, Sunday or stat holidays from 7pm.
Here's some of my top favourites you've just gotta try:
5/ ChicKing – Korean fried chicken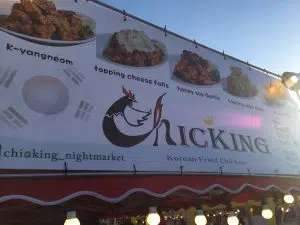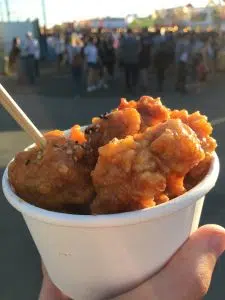 Korean fried chicken!!! Mmmmm so good. The chicken literally melts in your mouth and has a flavour that we've never tasted at any fast food places. They deep fry the chicken and then heat it up again in a wok fresh.
So so tasty and easy to eat. Korean chicken only debuted last year at the night and is already a huge crowd favourite.
You can have the fried chicken in a variety of flavours like k-yangneom (traditional and spicy sweet), topping cheese falls, honey soy garlic, topping vege deep and k-crazy hot. Highly recommended!
4/ Teppan Bossam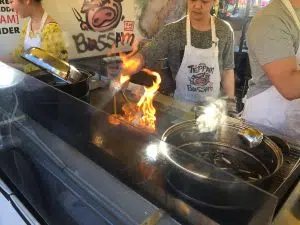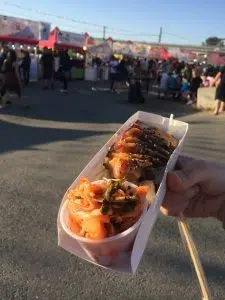 How can you possibly ignore pork belly?
They boil the pork belly in spices before grilling it and covering it with even more spices… smells sensational and is absolutely delicious!
I got the traditional garlic flavour (above) with a side of kimchi. Amazing. The pork isn't as salty as you'd expect and the sauce packs a punch – highly recommended.
3/ Lao Er BBQ Squid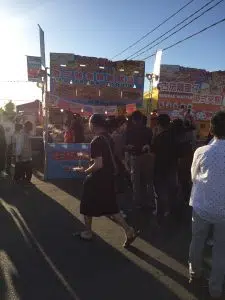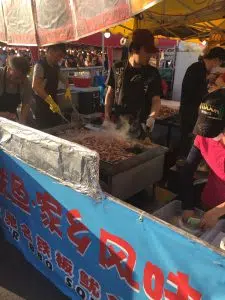 BBQ squid is what you'll find at any market in Asia and there is a good reason why – it's delicious!
There are lots of different stalls selling squid but this was a crowd favourite. Lao Er BBQ squid are marinated in a homemade spicy sauce and it tastes amazing. So fresh and so tangy, I guarantee you'll come back for more.
2/ Rotato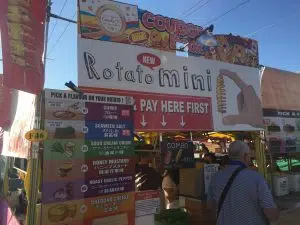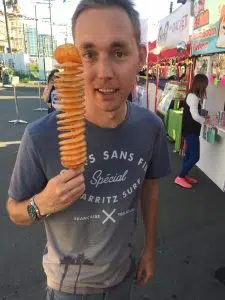 This was the total surprise pick of our visit… I mean when you try and describe 'potato on a stick' it doesn't do it justice at all.
The rotatos are a huge crowd pleaser, and for very good reason. They're fun to eat, come in lots of flavours and taste amazing!
At one point I asked whether they're actually made with potatoes because they were so so damn tasty… melting in your mouth with flavour but not too filling, which is great. The rotatos keep being re-invented with new flavours each year… try the curry, seaweed salt, sour cream onion, honey mustard, roast garlic pepper or cheddar cheese flavour.
It's obvious why everyone goes straight for the rotato stall when the night market opens, and you should too!
1/ Summer Seafood Festival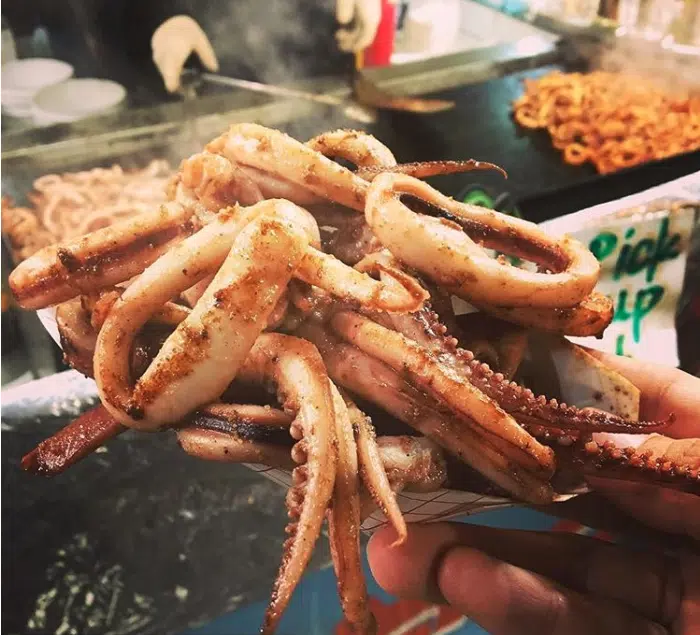 Mmmmmmmmm… ALL. THE. SEAFOOD. The Summer Season Festival is new year and it's so good.
Snow Crab with shrimp, Dungeness Crab, King Crab, Lobster… the list goes on. Basically if it's fresh and available from the sea in BC – you'll find it at very affordable prices at the Richmond Night Market.
You'll be in seafood heaven!
Use the opening special coupon to get a delicious Snow Crab with shrimp for only $14.99. Bargain.
To check out all the food options available at the Richmond Night Market –  go visit for yourself on Friday, Saturday or Sunday night from 7pm.