Summer is coming to an end… no!!!.. But quick, enjoy it while you can!
Vancouver has literally hundreds of places to cool off and most are within a 30min drive. Here's the beaches that we consider to be 'the best'.
1. English Bay
Pros:
Close to downtown, English Bay is a quick and easy option. The sand is nice and water quality is always pretty decent. There are numerous nearby patios, like Cactus Club Cafe which has arguably the best view in the city across the beach. It's a great place to spend a few hours if you don't want to do a full 'beach day' and has HANDS DOWN the best view to watch fireworks.
Cons:
It gets REALLY busy on the weekend, and parking? Well.. you can almost forget about it on a hot summer's day, or you'll spend the whole day driving around finding a park.. ergh. Along with Kits this is the most popular beach in Vancouver.

2. Bunzten Lake
Pros:
The water is crystal clear and you'll literally feel like you're in the middle of nowhere, surrounded by large mountains and hiking trails. There are designated areas for dogs, picnic facilities and grass play areas.
Cons:
You'll spend at least 1 hour driving here from downtown (it's located just north of Port Moody) and there are very limited public transport options. The water is also VERY COOL because it's glacial fed, so it'll need to be an absolute scorcher for you to dive into the lake.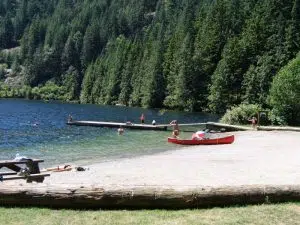 3. Wreck Beach
Pros:
What to say that hasn't been said about one of North America's largest 'clothing optional' beaches? Wreck is an enigma and (nudity aside) the backdrop is simply stunning with rainforests and unobstructed panoramic views – you feel like you're in the middle of nowhere with the city just out of sight.
It's relatively easy to get to from the nearby UBC campus. Just mind your manners (no gawking!) and beware that some people may be upset if you don't go 'sans clothing'.
Cons:
If you don't like nudity – don't go!
The stairs can also be a pain after a relaxing day on the beach (there are over 400 of them that you'll need to climb). Vendors sell cash-only alcoholic 'freezies' , hotdogs and other questionable cookies but apart from that there are no full service concessions like you'd expect on English Bay or Jericho Beach.
4. Jericho Beach
Pros:
Great location to have a picnic and take the kids to the beach. The west side is great for boating but the east side is perfect for swimming. If you want to play soccer or throw the frisbee you can do that on the large grassy fields. There are also volleyball and tennis courts. It's pretty easy to get to and normally parking is plentiful.
Cons:
During summer this place can get overrun by kids. The shoreline of the beach is also very pebbly and rocky, your feet will get a workout! If you're after a nearby patio you might have to walk a few blocks or front up some serious cash (and membership) at the nearby Vancouver Yacht Club.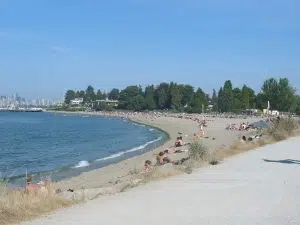 5. White Pine Beach
Pros:
Just a 10 minute drive from Port Moody but despite being so close to houses, you feel like you're in the middle of a forest. Pine trees line the hill opposite the beach and Sasamat Lake is clear and has a shallow entry, making it ideal for kids. There are lots of amenities like changing rooms, picnic tables, a cnoncession and bus transport is easy.
Cons:
There are no lifeguards at either of the two beaches or fishing docks. Water quality can sometimes be an issue, so check before you go. It can get busy on a hot summer day, plan to arrive in the morning on the weekend before it fills up.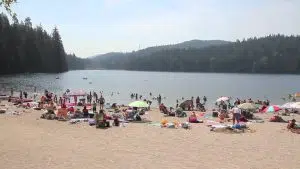 6. Kitsilano Beach
Pros:
Very easy to access by transit, Kits is one of Vancouver's best known beaches. The salt water pool is a bonus and it's great to enjoy when the water temperature in the ocean is a little too cold to handle. The seawall is a popular running spot and there is a nearby off-leash dog park. While the scenery is great, the attraction here is the people: you come here to see and be seen.
Cons:
This is THE SPOT to be seen on a hot summer day and as such it can get very very busy, car parking fills up fast and gridlock ensues. Some people think Kits can be a little pretentious at times and much busier than the nearby Jericho or Spanish Banks Beach.
7. Quarry Lake (Heisholt Lake)
Pros:
If you want a private swimming spot in the most picturesque location – this is it!
Stunning crystal clear blue-green water from a natural spring in an abandoned marble quarry, it is absoultely magical. You'll almost always have the lake to yourself and can sprawl on the rocky outcrops. There is truly a hidden gem that you can brag to your friends about.
Cons:
Technically there isn't a traditional 'beach' but the location makes up for up. The real hassle is getting here.. it's hidden for a reason. To get here you'll need to make your way up the coast and across to Texada Island. Don't have a boat? Well.. this might be a little tricky (but not impossible) to get to.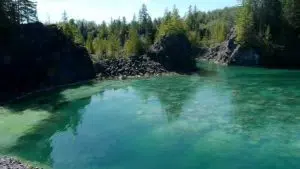 8. Spanish Banks
Pros:
This is the perfect place to have a massive BBQ! Sprawling grass areas with dog run free zones make this a great family area. You can go for long walks along the beach and even ON the beach when the tide is low – you can walk almost 1km out to sea on the sand flats.
Cons:
If you want a place for swimming, this probably isn't it. Especially at low tide when you'll need to hike over 1km to the water. Public transport isn't the best either, but if you're bringing the BBQ you probably aren't traveling on the bus!
9. Centennial Beach, Tsawwassen
Pros:
This is where you go for the warmest saltwater swimming in British Columbia. You'll feel as though you're in California, instead of Boundary Bay Regional Park. It's a popular swimming destination for local families and has expansive sandy beaches with lots of sea life. There are also great picnic areas with change rooms and aconcession stand.
Cons:
Hard to get to without a car from Downtown Vancouver. Even driving on a hot summer day could take you well over an hour, especially if you're returning on a busy Sunday afternoon with the traffic.
10. Deep Cove
Pros:
This quiet seaside village is perfect for canoeing, kayaking or stand-up paddleboarding. There is a rental shop if you don't have the gear and you can also take lessons. The community is an attraction in itself and there are plenty of trails to explore with great views over the Burrard Inlet below.
Cons:
While the grassy hills are perfect for picnics and beach blankets, the shoreline is gravelly and not ideal for laying on. There are no sandy beaches here and the cove is surrounded by hills which means it gets darker much earlier here.