Want to be a living legend in Vancouver?
You can have your name in lights and be admired by throngs of people on a daily basis… all you need to do is eat a gigantic meal.
Get training because here are five of the best food challenges in Vancouver:
5/ Anton's Pasta Bar
4260 East Hasting Street, Burnaby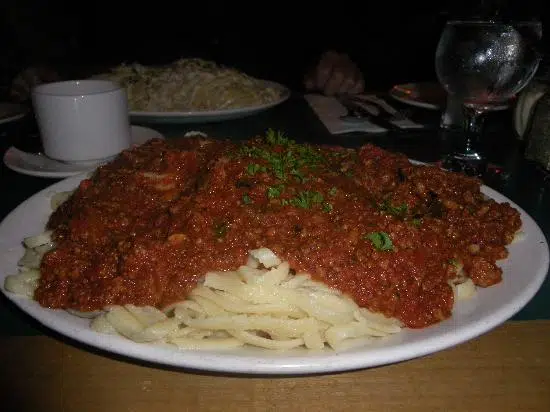 Challenge: Finish a plate of pasta by yourself
Prize: Commemorative pen that says "I can't believe I ate the whole thing"
Pro tip: Order the lasagna. Apparently it's the easiest dish to finish.
Vancouver food challengers have said this is one of the 'easiest' food challenges in the city. But beware, these plates are deceivingly huge!
The only downside to polishing off a full plate is you won't get your name on a wall, nor will you get a free meal. But the commememorative pen is a pretty cool prize to remind you of your achievements!
4/ Lucy's Eastside Diner
2708 Main Street, Vancouver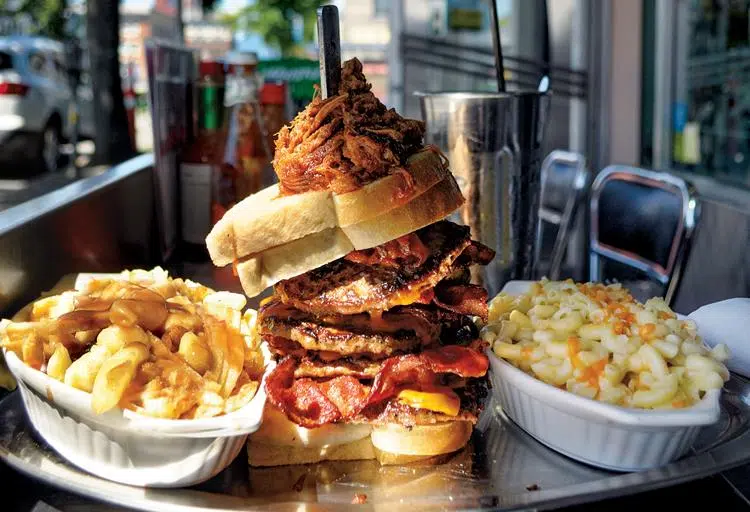 Challenge: Six-patty burger, 12 pieces of bacon, 6 slices of cheese, sides of poutine and mac & cheese plus a 24 oz. milkshake. Finish in under 20 minutes.
Prize: Wall of fame, free meal
Pro Tip: You can still get your name on the wall if you finish it all in over 20 minutes. So take your time if you don't care about paying for it all.
The carb packed sides will be your undoing for this challenge. Plenty of people have downed the huge burger but the huge sides of poutine and mac & cheese are the challenge!
This cozy place on Main Street is open 24/7, so if you feel like attempting the challenge after a late night out – go for it!
This is a serious food challenge that shouldn't be taken lightly.
3/ Wings Restaurants
Various locations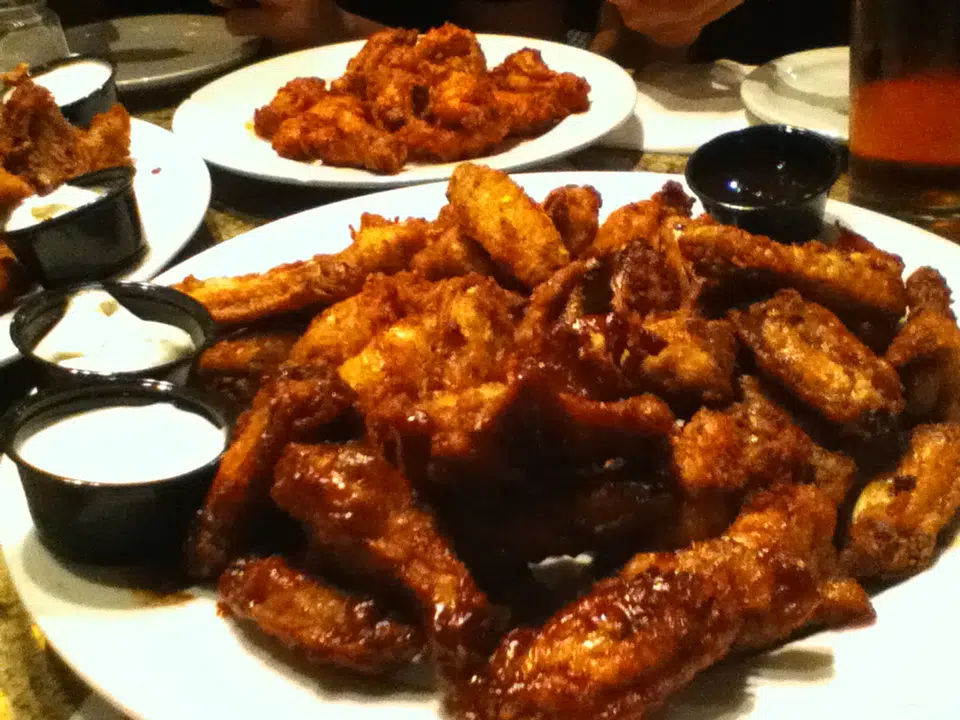 Challenge: Order the Bobby Wings, sign the waiver and complete the plate.
Prize: 'Wall of flame' and weekly draw for gift certificates and Canucks prize packs
Pro Tip: Fast. Go as fast as you can and get it down!
This is not a challenge about how much food you can eat, it's all about if you can keep it down!
These wings are extremely hot. This is the type of hot that accidentally scratching your eyes will do serious damage.  There is a reason why you need to sign a waiver before you attempt this challenge.
Serious bragging rights if you can handle the heat and take on this challenge.
2/ The Two Parrots Perch & Grill
1202 Granville Street, Vancouver
Challenge: Eat a burger with 2lbs of beef and 2lbs bun & toppings in under 1 hr
Prize: Wall of fame & free meal
Pro Tip: Past winners have 'deconstructed' the burger and found it easier to eat that way.
This is the grand daddy of burger challenges in Vancouver and probably one of the most well known (despite the fact it is not listed on the menu). The burger weighs in at a whopping 5lbs with the bun and toppings added. Sizing it up, it's almost larger than your head.
The burger is seriously tasty as well.. three plate sized patties, a loaf of bread, melted cheese, sauteed mushrooms, lettuce, tomatoes and garlic pickles. Almost a shame that you need to eat the whole thing!
This challenge has been around for years and years, despite that the wall of fame is shockingly small – around 30 or so names.
1/ Mooses Down Under
830 West Pender Street, Vancouver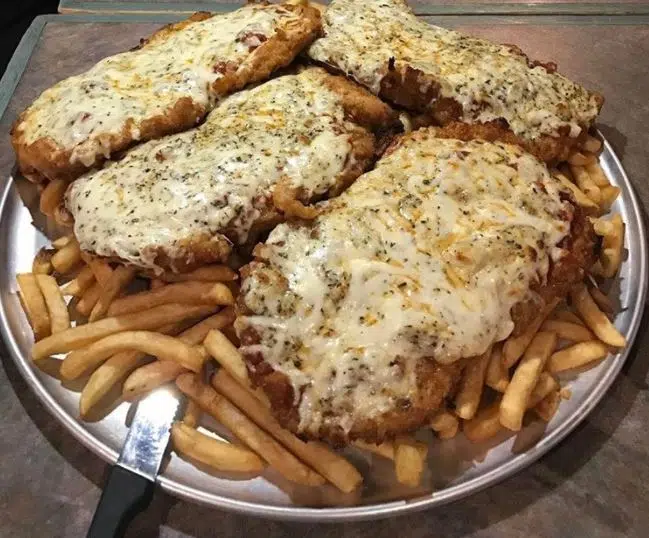 Challenge: Eat 1kg chicken parmie and fries in under 45 minutes.
Prize: Free t-shirt, wall of fame and free meal
Pro Tip: The fries are deceivingly filling and not to be taken lightly.
One of the newest food challenges in Vancouver. This is potentially the hardest to complete as well.. but it's not without it's rewards. The biggest prizes in the city awaits anyone who can conquer the massive 1kg (2.2lbs) of chicken breast.
This is for SERIOUS bragging rights only. You'll need to be on your game, of the 50+ people who have attempted the challenge there are only 6 names on the wall of fame.
Which food challenge would you try and attempt if you had to?
Good luck!